UNIPRO IN KERALA FLOOD RELIEF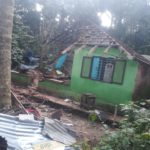 For the first time in the history, Kerala witnessed it's worst calamity with more than 370 people lives lost and more than 1 million people displaced in 3000+ flood relief camps. Being aware about the extent of damages caused by this unprecedented flood havoc , UNIPRO initiated flood relief and rehabilitation support at very early stage onward and channelizing funds through UNWO and local body NGO MMA.
As bounded by Islamic ethos, UNIPRO always gave her first hand at the time of natural disasters starting from J& K and also now, by the grace of Almighty, UNIPRO contributed Rs 1,58,200/- (One lakh fifty eight thousand two hundred rupees) as a part of Kerala flood relief support. Also, UNIPRO is channelizing flood relief material support such as food, clothes received from other organizations in TamilNadu into Kerala.
We would like to thank all our donors at this time and We pray to Allah SWT for Kerala brothers and sisters to recover quickly.